Bus service improvement plan brings cheaper fares to Thetford
9 November 2023
Residents in Thetford are set to benefit from a new flat fare on buses within the Thetford town zone thanks to money that Norfolk County Council secured from the Department for Transport (DfT) to improve bus services across the County.
The new flat fare which starts on Monday 13 November will mean any single journey that starts or finishes within the designated zone will cost just £1.50.
Both operators that serve the town, Coach Services Ltd and Konectbus, have signed up to the scheme.
The Thetford town zone includes key locations such at Thetford Academy, Tesco, Sainsburys and the RAF camp.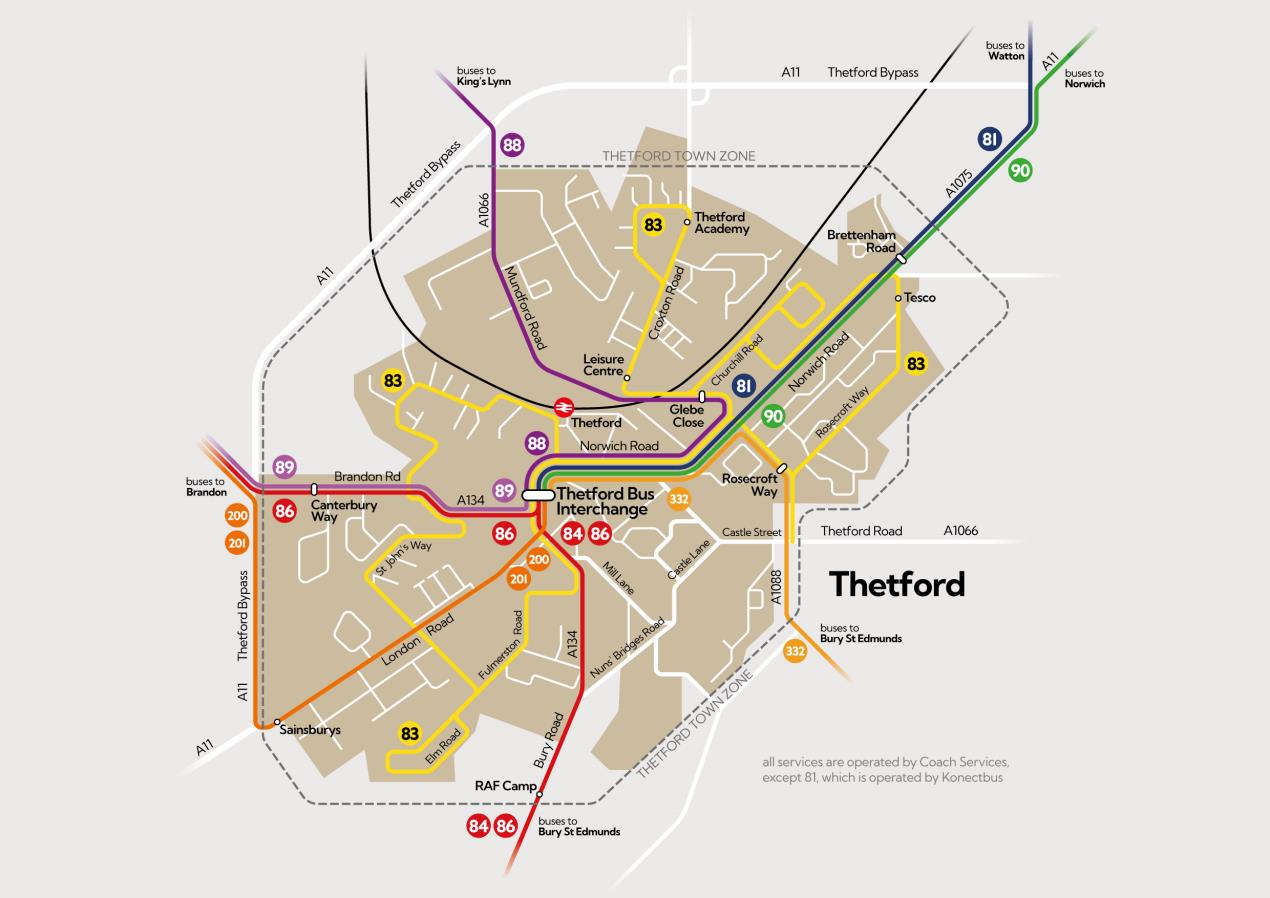 Cllr Graham Plant, cabinet member for highways, infrastructure and transport, said; "Making buses the most affordable choice is key to more people using them. By reducing prices in urban areas people can choose the bus for the daily commute or when popping into town which will not only save them money, but also help to play a part in reducing congestion and improving air quality for all."
Cllr Jane James, county councillor for Thetford East, said; "I'm really pleased to see a reduced capped fare for a single journey launched in Thetford. The use of this funding to support our residents moving around our town for business, education or pleasure is very welcome and I know will be appreciated by the users of the service in the town and will enable accessibility to the service to more people."
Cllr Terry Jermy, county councillor for Thetford West, said; "Encouraging more journeys by bus has been a key aim of mine for many years. This cut in the fares is a step in the right direction and will make journeys more affordable for people and open up opportunities locally for people to travel around."
Approximately £5.3 million of the funding Norfolk received has been allocated to fares promotions to make bus travel more affordable in Norfolk over the next three years. This is one of a series of fares promotions that have been announced this year. Others include the flat fare in King's Lynn, discounted group, weekly and monthly tickets and reduced park & ride fares.
Roads Minister Richard Holden, said; "People up and down the country deserve a modern, reliable, and affordable public transport system. That is why we have provided Norfolk County Council with over £49.5 million to boost its bus services. Supporting the Council with introducing the £1.50 flat fare is fantastic for residents in Thetford, who will now be able to get around the 'town zone' more easily and for less."